NEWS & EVENTS
FALL 2019
FRIDAY, DECEMBER 13, 2019 at 7:00pm | A Concert of Greek Kalanta & Byzantine Psalmody for the Holiday Season | Annunciation Greek Orthodox Cathedral, 514 Parker Street, Boston | This Event is Free & Open to the Public.
Friday, December 13th, 7:00pm: The Greek Institute, in collaboration with the Greek Orthodox Metropolis of Boston and the Consulate General of Greece in Boston will present an inspirational and joy-filled program of Greek Kalanta and Byzantine Psalmody performed by: Psaltikon with Dr. Spyridon Antonopoulos, Director; The Pharos Ensemble with Eirini Tornesaki on vocals, Vasilis Kostas on the laouto, Panos Aivazidis on kanun and George Lernis on percussion. These two extraorinary groups will be joined by The St. Romanos Choir of Holy Cross, led by Rev. Grammenos Karanos, Director. We will feature readings by modern Greek author, Alexandros Papadiamantis (1851-1911) and an audience "sing-along" of famous Kalanta (carols). This event is in its 9th year, and this year will be free and open to the public. There will be a light reception following the concert.
MONDAY, NOVEMBER 11, 2019 at 7:00pm | The Greek Institute's "Greeks Speak Series" Welcomes Poet George Kalogeris at The Greek Institute
Monday, November 11th at 7:00pm: The "Greeks Speak" Series will welcome poet, George Kalogeris who will present his most recent publication. George Kalogeris is the author of a book of paired poems in translation, Dialogos (Antilever, 2012), and of a book of poems based on the notebooks of Albert Camus, Camus: Carnets (Pressed Wafer, 2006). His poems and translations have been anthologized in Joining Music with Reason, chosen by Christopher Ricks (Waywiser, 2010). His current book of poems is Guide to Greece, (Louisiana State University, 2018). He is the recipient of the James Dickey Prize for Poetry. He teaches English Literature and Classics in Translation at Suffolk University. Open to the public.
SUNDAY, NOVEMBER 10, 2019 at 6:00pm | Concert Event | Crossing Boundaries by The Modern Masters ~ To Benefit the Kalesma Humanitarian Project in Greece | For tickets: www.thegreekinstitute.org
On Sunday, November 10th at 6:00pm, an inspiring concert event: "Crossing Boundaries by the Modern Masters: A concert celebrating mediterranean & middle eastern jazz & folk traditions" will take place at Peabody's Black Box Theater | 22 Foster Street | Peabody, MA. The event will feature Vasilis Kostas on Laouto; Layth Sidiq on Violin; Burcu Gulec, Voice; Panos Aivasidis, Qanun; George Lernis, Percussion. They will be joined by the St. Vasilios Youth Choir directed by Antonios Vatousios. Proceeds will benefit KALESMA: A humanitarian project transforming children's lives through music.
FRIDAY, NOVEMBER 1, 2019 at 8:30pm | Dimitris Mpasis Live in Boston Concert | For tickets: www.synphoniaentertainment.com
THURSDAY, OCTOBER 24, 2019 at 7:30pm | A Fireside Chat with the Hon. Consul General of Greece in Boston Stratos Efthymiou
On Thursday, October 24th at 7:30pm, The Greek Institute is very pleased to welcome on-site our dynamic Consul General of Greece in Boston, Stratos Efthymiou, for a "Fireside Chat" about his vision and initiatives regarding the Greek-American community in Boston. Professor Nicolas Prevelakis (Harvard University) President of the Circle of Hellenic Academics in Boston, will join him and our guests for the conversation. There will be adequate time for the audience to ask questions in an open dialogue. Reception to follow.
MONDAY, OCTOBER 7, 2019 at 7:00pm | "Greek To Me" A Talk with Mary Norris
On Monday, October 7th at 7:00pm, acclaimed writer Mary Norris who worked as a copy editor at The New Yorker for more than thirty years will join us to speak about her book, "Greek To Me, Adventures of the Comma Queen." Her first book, Between You and Me: Confessions of a Comma Queen (Norton, 2015), was a New York Times best-seller. She has traveled extensively in Greece and studied modern and classical Greek. Her most recent book, Greek to Me: Adventures of the Comma Queen (Norton, 2019), has been described as "a delicious intersection of personal essays, etymology, and travel writing" (Booklist). Norris has written for The New Yorker, the New York Times Book Review, Self, the Wall Street Journal, and the Times Literary Supplement. Originally from Cleveland, she lives in New York.
This talk is open to the public!
SUNDAY, OCTOBER 6, 2019 | "THE SOUL OF EPIRUS" CONCERT!
The story behind
The Soul of Epirus
begins years ago, in a little village in the heart of northwestern Greece. It's the story of a young Greek boy named Vasilis who would grow to become an acclaimed musician, performing with some of the world's best. But before that, there was the village, and a family who lived immersed in the soulful mystique of Greek folk songs. During seasonal festivities, the entire village would gather in the main square and Vasilis would dance to the sound of the clarinet. He didn't know it then, but eventually he would become a master of the stringed instrument known as
laouto
– the Greek version of the lute – and create an innovative new place for it in contemporary music.
SUNDAY, OCTOBER 6, 2019 | 4:00 pm
THE TAXIARCHE GREEK ORTHODOX CHURCH, WATERTOWN, MA
TICKETS: You can purchase directly on our home-page, e-mail The Greek Institute at greekinst@verizon.net or call us at 617.547.4770.
SATURDAY, SEPTEMBER 28, 2019 | ALKISTIS PROTOPSALTI LIVE!
The Greek Institute is very pleased to support the upcoming concert event at Harvard University's Sanders Theatre featuring the acclaimed and talented Alkistis Protopsalti in support of St. Demetrios Greek Orthodox Church in Weston. Alkistis Protopsalti is a long-time friend and supporter of The Greek Institute, when we featured her in concert in 2009. Please support this incredible artist, and the cause!
FOR GROUP SALES THROUGH THE GREEK INSTITUTE PLEASE E-MAIL US AT GREEKINST@VERIZON.NET OR CALL THE GREEK INSTITUTE AT 617.547.4770!
SEPTEMBER 15-OCTOBER 30, 2019 | "ATHENS TWICE SEEN"
An Exhibition of Composite Photographs of Past & Present at the Most Iconic Sites in Athens
The Greek Institute is proud to exhibit both photographs and books of photographs by Richard W. Moore throughout September and October. Over the course of two years, Richard Moore followed in the footsteps and tripod holes of the earliest photographers of Athens. He rephotographed the same scenes, then digitally merged the old and the new. The result is "Athens Twice Seen", a book and exhibit of composite photographs.
Prints from the book will be on exhibit at The Greek Institute, 1038 Massachusetts Avenue, Cambridge, September 15 through October 30, with an opening reception September 15, 4-7 pm. The Institute is open 3pm-5pm Tuesday through Friday or by appointment at (617) 547-4770. Selections of the twice-seen images in the book were exhibited in the Nikos Hadjikyriakos-Ghikas Gallery of the Hellenic American Union in Athens, Greece, June 14-July 7, 2018. The book represents a collaborative effort of the Hellenic American Union, the New Hampshire Institute of Art, and Editions Kallimages, Paris.
Past News and Events:
The Harvard Library in Celebration of the Arrival of the Archive
of Greek Poet and Lyricist Nikos Gatsos presents:
The Gatsos I Loved: A Concert
Music by Manos Hadjidakis, Mikis Theodorakis, and Stavros Xarhakos
Featuring performing artists:
Manolis Mitsias

, voice

Karyofyllia Karabeti

, voice and readings

Achilleas Wastor

, piano

Heracles Zakkas

, bouzouki and mandolin
Join the Harvard Library on a musical journey through the history and culture of modern Greece through the lyrics of poet

Nikos Gatsos

. This exclusive U.S. event brings acclaimed Greek singer Manolis Mitsias and actress Karyofyllia Karabeti together to highlight Gatsos's unique blend of surrealism, symbolism and folk song. Hear the best-loved melodies of composers Manos Hadjidakis, Mikis Theodorakis, Stavros Xarhakos and more, and celebrate the legacy of one of Greece's beloved poets.
GREEKS SPEAK LECTURE SERIES: Authors, Scholars, Scientists, Artists
On March 19, 7PM, Vassiliki Rapti, Preceptor in Modern Greek, the George Seferis Chair, Harvard University, will present a talk on "Children's Games in the work of Greek filmmaker, Theo Angelopoulos." She will include several clips from his films, Eternity and a Day, Landscape in the Mist, and Reconstruction.
Vassiliki Rapti received her B.A. from the University of Athens in Medieval and Modern Greek, Literature, an M.A. in Greek Studies from the University of Paris-Sorbonne, and a doctorate in Comparative Literature from Washington University St. Louis. Her work in the teaching of the Greek language - ancient, Byzantine and modern - is extensive. She has participated in numerous conferences and seminars on the Greek language and literature and is the recipient of many honors and awards for her creative approaches to the teaching of Greek, as well as her own creative writing. Of special note is her recent work with ACTFL - the American Council for the Teaching of Foreign Languages - and a Board member of the Task Force Committee on the Standards for Greek Language Instruction.
On March 26, 7PM, Dr. Nicolas Prevelakis will give a talk entitled "Greece and the Days Ahead," which will focus on the socio-economic challenges facing Greece.
Nicolas Prevelakis was born in Athens, Greece and holds a Ph.D. in moral philosophy from the University of Paris-Sorbonne (on the notion of the self in Eastern Christianity) and a second Ph.D. in political sociology from Boston University (on nationalism and religion in modern Greece). He is currently a lecturer at the Committee on Degrees in Social Studies of Harvard University, an interdisciplinary concentration that brings together outstanding teachers and intellectually engaged honors-only students who share not only a fascination with social science research and theory but also concerns about pressing social, political, and economic problems facing contemporary societies. At Harvard, he teaches political theory, nationalism, and the sociology of religion. He is also a faculty associate of Harvard's Center for Hellenic Studies and its summer internship program in Nauplion. He has published articles and encyclopedia pieces on Eastern Christianity, religion and politics, and theories of nationalism
On April 2, 7PM, Dr. Michalis Psalidopoulos will speak about the Greek crisis
Michalis Psalidopoulos is the holder of the Constantine Karamanlis Chair in Hellenic and European Studies at the Fletcher School of Law and Diplomacy. Prior to joining Fletcher and Tufts University, Psalidopoulos was a professor of the History of Economic Thought at the Department of Economics, University of Athens, Greece. He took his first degree in Economics from the University of Athens and followed post graduate studies in politics, sociology and economics at the Free University of Berlin, Germany. He was a Fulbright Fellow at Duke University in 1993, a Stanley J. Seeger Fellow at Princeton University in 1996 and a Visiting Research Professor at Kings College, London in 1998. His research focuses on national traditions in the History of Economics and the relation between economic thought, economic policy and good governance, especially in Southwestern Europe. Psalidopoulos has written extensively in his academic field of expertise. His books include The crisis of 1929 and the Greek Economists, Keynesian Theory and Greek Economic Policy, Economic theories and social policy and Xenophon Zolotas and the Greek economy (in Greek). He edited the Canon in the history of economics and Economic thought and policy in Europe's less developed countries for Routledge in 1999 and 2002 respectively and was awarded the prize for the best economic treatise by the Academy of Athens in 2007 for his International conflict and economic thought (in Greek). His most recent book is Economists and economic policy in Greece (in Greek, 2010). He has also published articles in History of Political Economy, the European Journal for the History of Economic Thought and in History of European Ideas. He is currently involved in a comparative project of economic experiences and policies in Europe's less industrialized countries during the great Depression. He is fluent in English, German and French, as well as Greek.
All talks are open to the public and will take place at the Greek Institute, 1038 Massachusetts Avenue, Cambridge, MA. For more information, please call the Institute at 617.547.4770.
"XENAKIS AND HIS LEGACY" - A BOSTON FIRST
The Greek Institute is very pleased to support "Xenakis and his Legacy" to be presented at the New England Conservatory of Music this November 11 and 12. A series of talks and performances dedicated to the music and legacy of Iannis Xenakis is being organized by Greek composer and faculty member, Stratis Minakakis, and his colleagues, for the first time in Boston. Xenakis was one of the seminal figures of the 20th century, dedicating his whole life to the fearless and uncompromising pursuit of beauty, truth, and justice across a number of fields and activities—engineering, mathematics, architecture and music. In some of these fields, but especially musical composition, his work has had a lasting and transformative influence.
Iannis Xenakis was the oldest son of a Greek family residing in Braila, Romania, where he was born in 1922. He moved to Greece in 1932, where he completed his secondary education and in 1939 entered the Athens Polytechnic School to study engineering. At the same time, he started composing music and taking lessons in musical analysis and theory. The war years intervened and he joined the resistance. Despite living as a fugitive, he managed to complete his studies, and in 1947 escaped and made his way to Paris. He was not to return to Greece until the fall of 1974.
In Paris, Xenakis was hired by Le Corbusier as an engineer, thus beginning a long collaboration with one of the foremost architects of the time and an extraordinary architectural career of his own. His architectural contribution to the design of the monastery in la Tourette was the first in a series of stunning, original designs. Perhaps the best known of these is his design of the Phillips Pavilion for the 1958 Brussels World Fair. Xenakis designed a building of mathematical forms; as he says, "It was a unique opportunity for me to imagine an edifice, both in its structure and form, constructed exclusively of hyperbolic parabolas and conoids, and especially, self-supporting." But his architectural explorations are not separate from his musical ones, and both are intertwined with a mathematical way of thinking that goes back to the ancient Greek tradition—as far back as the earliest Pythagoreans and Plato. As he remarks about the Phillips Pavilion, "My own musical research on sounds with continuous variation in relation to time … led me to lean toward geometric structures based on straight lines: ruled surfaces."
Musical composition and the theory underpinning it remained Xenakis' focal interests until his death in 2001. He composed for the human voice and many instruments, leaving behind, for example, a considerable body of work for percussion that is considered to have redefined music for percussion. His works for piano are also considered as most original, as well as most challenging to perform. Throughout his life he experimented with different musical forms, sources of sound, e.g., traditional instruments, the human voice, sounds of ordinary objects, taped electronic sounds, as well as the relationships among sound, space, and time. His theoretical reflections on these matters are now considered as seminal as his compositions.
Xenakis was fascinated by elementary sounds, the building blocks of more complex compositions, and the way they can be mathematically combined to create a complex structure that attains truth and beauty. As stated earlier, this approach to composition has its roots in the ancient Greek tradition. Xenakis was deeply imbued with that tradition, with almost all of its aspects—mathematics, science, philosophy, art, ideals of freedom and justice, and tragic drama. He composed music for or created works based on several of the tragedies—Oresteia, Medea, Oedipus at Colonus, Helen, Suppliants, etc. Xenakis tried to recapture the elemental sounds that accompanied the performance of tragedy in ancient times as well as the meter, rhythm, and melodies of the odes sung by the chorus. In his works inspired by ancient Greek drama, he revolutionized musical composition for the performance of ancient Greek tragedy. Finally, mathematics was for him, as it was for the Pythagoreans, the language of both the physical world and the world of art, and he was able to use it to create works that convey truth and beauty and, at the same time, evoke the deepest emotional responses. - Georgios Anagnostopoulos, Professor of Philosophy, University of California, San Diego and Member of the Board of Directors of The Greek Institute, Cambridge
On November 11 the following will present a series of talks on the work of Xenakis: Athanassios Economou, PhD, Georgia Institute of Technology, Trevor Baca, Harvard University, Katarina Miljkovic, D.M.A., New England Conservatory, and Stratis Minakakis, New England Conservatory, These will begin at 8PM and take place in Pierce Hall, New England Conservatory, 241 St. Botolph Street, Boston. Open to the public.
On November 12 a concert featuring the music of Iannis Xenakis, along with works by Trevor Baca, Yorgos Adamis, Katarina Miljkovic and Stratis Minakakis will begin at 8PM and take place in the Jordan Hall Building, Brown Hall, 10 Gainsborough Street, Boston. Open to the public.
Dr. Emmanuel Paraschos Will Present
His Latest Research on the Earliest Greek Immigrants to Boston
On April 4 at 7:00 pm, Dr. Emmanuel E. Paraschos will present his latest research on the earliest Greek immigrants to Boston. He has spent many months studying historical records and references dating back to the early nineteenth century and earlier.
Dr. Paraschos is the graduate program director in the department of journalism at Emerson College. He was the dean of the European Institute for International Communication in Maastricht, The Netherlands, and chairperson of the journalism department at the University of Arkansas, Little Rock. He served as a Fulbright Professor in Scandinavia, where he taught at the Norwegian Institute of Journalism and at the universities in Sweden, Denmark, and Norway.
He has been published in, among others, Journalism Quarterly, Journal of Communication, College Press Review, and Journalism Educator. His most recent book is Media Law and Regulation in the European Union. Since 1994 he has served as co-publisher of Media Ethics magazine. Dr. Paraschos' primary areas of research and expertise are media law and ethics, global journalism, print and multimedia journalism, and the role of the press in a democratic society. He is the author of The Boston Journalism Trail.
On April 11 at 7:00 pm, Dr. Athanassios Economou will speak on symmetry, one of the most significant aesthetic factors in the visual arts and especially music composition. He will give a brief history to illustrate its presence in various forms of works of art and will discuss the various shifts of its meaning from the ancient Greek s?µµet??a (commensurability) to its contemporary foundation on algebraic group theory.
Dr. Athanassios Economou is an associate professor in the College of Architecture (COA) at the Georgia Institute of Technology and a visiting associate professor at MIT. His teaching and research is in the areas of shape grammars, parametric design, computer aided design and discrete mathematics and design. He is the director of the Shape Computation Lab (SCL) at COA and the Georgia Tech Study Abroad Program on Art and Architecture in Greece and Italy. Recently funded research projects include the shape grammar for Federal Courthouses and a web-based database for the US courthouses. Projects from his graduate studios at Georgia Tech have received prestigious awards and honorable mentions in international and national architectural competitions. He has served on technical committees of various associations and journals on computer-aided architectural design and on design and mathematics at large and he has been invited to lecture at several universities including MIT, Harvard, University of Michigan and others. Dr. Economou holds a Diploma in Architecture (1990) from the National Technical University in Athens, Greece, a Masters of Architecture (1992) from the University of Southern California, and a Ph.D. in Architecture (1998) from the University of California, Los Angeles.
On May 2, 9, and 16, Dr. Nicolas Prevelakis will give a series of talks entitled "Understanding Greece Today". The first lecture on May 2 at 7:00 pm will address the historical formation of modern Greek national identity, focusing on the interconnection between East and West, religion and secularism, and tradition and modernity. His May 9th (7:00 pm) lecture will focus on Greek politics, mainly on the process of democratization in the 20th century, the left/right divide, and the current challenges to the political system. On May 16th at 7:00 pm, Dr. Prevelakis will discuss the ways in which Greek cinema has captured the changes in Greek society from the 1960s until today.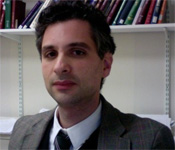 Nicolas Prevelakis was born in Athens, Greece and holds a Ph.D. in moral philosophy from the University of Paris-Sorbonne (on the notion of the self in Eastern Christianity) and a second Ph.D. in political sociology from Boston University (on nationalism and religion in modern Greece). He is currently a lecturer at the Committee on Degrees in Social Studies of Harvard University, an interdisciplinary concentration that brings together outstanding teachers and intellectually engaged honors-only students who share not only a fascination with social science research and theory but also concerns about pressing social, political, and economic problems facing contemporary societies.
At Harvard, he teaches political theory, nationalism, and the sociology of religion. He is also a faculty associate of Harvard's Center for Hellenic Studies and its summer internship program in Nauplion. He has published articles and encyclopedia pieces on Eastern Christianity, religion and politics, and theories of nationalism.
All talks are free and open to the public and take place at The Greek Institute, 1038 Massachusetts Avenue, Cambridge, Massachusetts. For more information, call 617-547-4770 or email: greekinst@verizon.net.
Shining a light on Boston's journalism "firsts,"
Manny Paraschos has unearthed a Greek American gem
By Nancy Agris Savage
BOSTON - Emerson College Graduate Program Director and Professor of Journalism Emmanuel Paraschos describes his love of journalism as beginning during his childhood in Greece, where his family owned a small newspaper chain.
"I was born with ink in my veins," Paraschos says, and that combination of ink and Hellenic blood has fueled a noted career as a journalist, educator and author.
Most recently, Paraschos has dedicated himself to a two-year drive to document the many "firsts" in Boston journalism. He has created a website named "The Boston Journalism Trail - 35 American Journalism Landmarks in Boston." All mapped out and ready for the walking, this trail is jammed with historic breakthroughs that set the foundation of American journalistic standards, from the publication of North America's first three newspapers, to the first commercial radio station and America's premier 24-hour regional cable news network.
Boston even holds title to the first full-page newspaper advertisement, which appeared in The Boston Globe. Not all financially rooted firsts, Boston also holds claim to giving women and ethnic/religious groups a boost, with the first woman editor and publisher, the first all women radio station, first English language Jewish newspaper and the nation's oldest Catholic and Methodist newspapers.
Each of these finds spurred Paraschos along in his search, but what really got that Greek blood boiling and those journalistic juices flowing was the discovery that the very first Greek American newspaper was published in Boston.
"Incredible," says, Paraschos, who has confirmed with scholars of Greeks in America that the paper, Neos Kosmos, was first published on March 25, 1892, (what a coincidence - Greek Independence Day) by Kostas Fasoularides, a native of the island of Nisyros who came here in 1889 to study at MIT.
The publication only lasted a few months, according to Paraschos, and then closed. Fasoularides reportedly went to New York City to work for Atlantis and then started two other newspapers there, before dying in 1909.
While buoyed by his find, Paraschos is frustrated that no one that he has come across doing this research has ever seen a copy of the paper and nor do any of the libraries in the Boston area, Lowell or in New York City.
Paraschos laments that even the Nisyrians, who consider Fasoularides one of patrioti in whom they take tremendous pride, have not come across a copy of this Boston and Greek American "first" publication.
Paraschos recently spent an entire week at the library of the Perkins School of the Blind in Boston, where Fasoularides' friend and benefactor Mike Anastos worked, hoping that there might be a copy there. No luck.
Enormously helpful to me over the 18 year existence of The Peter Agris Memorial Journalism Scholarships from his vantage point at Emerson, Manny reached out to see if perhaps my late father's personal papers or the half century span of archives of The Hellenic Chronicle (1950-2000) would yield a copy of this prized artifact in Greek American journalistic history.
Sadly, to date, it has not. But, I have not given up hope that it might still be there, tucked away in the voluminous files not easily accessed or that perhaps one of the faithful readers of The Hellenic Voice might have some information which would lead Paraschos to this treasured find.
Whether or not that happens is up to fate, but what must not be allowed to happen is the missing out by any member of the Greek American community in the New England area of Manny Paraschos' upcoming lecture on "Boston's First Greek Americans," on Monday, April 12, at 7 pm, at The Greek Institute in Cambridge, one of our community's "current" gems.
I hope readers will take advantage of our recent spring thaw to walk Manny Paraschos' Boston Journalism Trail. You won't regret it. Here's the link you need to get started: http://journalism.emerson.edu/journalismtrail/
Nancy Agris Savage is a feature writer, journalist and editor in the Boston area. A former senior staff member of the House of Representatives Committee on Foreign Affairs and former editor-in-chief of The Hellenic Chronicle, she inherited from her late father the love of journalism and her Greek American heritage and is thankful to honor it and him annually through the giving of endowed scholarships in the amount of $5,000 to six aspiring journalists of Greek American ancestry.
---
Mario Frangoulis, Sony Classical Recording Artist,
in a Unique Cultural Event: THE LIGHT OF GREECE: A Celebration of Greek Song & Poetry
Premiering in the United States!
Joined by Special Guest Artist George Perris
CHICAGO, North Shore Center for The Performing Arts, 7:00pm & CAMBRIDGE, Sanders Theatre, Harvard University, 8:00pm -- The Greek Institute presents Mario Frangoulis, internationally acclaimed Sony Classical recording artist in the world premiere performance of THE LIGHT OF GREECE: A Celebration of Greek Song & Poetry. Music and poetry are at the heart of Greek culture. THE LIGHT OF GREECE features the greatest poets, ancient to modern, set to music by highly acclaimed composers Hadjidakis, Theodorakis, Andriopoulos, Markopoulos and Xarchakos.
Mario Frangoulis is referred to as one of Greece's "national treasures." He is at the center of the music world in Greece, working directly with both established, and new composers and artists. He takes great pride in his Greek heritage, and is bringing this very special program to Greek American and American audiences throughout the United States.
The Greek-French singer George Perris, joins Frangoulis as part of his Young Artists Program, his most recent CD, Perno Anasa was released by Sony Greece in 2008, he is currently working on his 3rd Greek CD and a French CD. Most recently, he was honored with an invitation to work alongside world famous vocalist Lara Fabian at the Zenith arena in Paris, and has performed with prestigious orchestras, such as the English Oxford symphony at Cadogan Hall in London. Accompanying Frangoulis and Perris will be an 8 member instrumental ensemble comprised of some of the finest Boston musicians, led by composer and pianist, Panagiotis Liaropoulos, Ph.D.
This group of dedicated and talented young artists have come together to create a program that represents the finest expressions of the Greek heritage.
Frangoulis released his critically acclaimed first album on Sony Classical, Sometimes I Dream (2002). Since then, he has released 9 CDs: Follow Your Heart (2004); The Garden of Wishes (2005); Music of the Night (2006); Amor Oscuro and Give Us Your Poor (2007); Passione and Mario & Friends 1: It's A Wonderful World (2008); Mario & Friends 2: It Makes The World Go Round… and The Season of Love: Manos Hadjidakis (2009). Upcoming projects include his next international CD expected in the fall of 2010.
Frangoulis sings in Greek, English, Spanish, Italian and French, reaching a truly global audience. He has performed throughout the United States with major orchestras such as: The Chicago Symphony, the Richmond Symphony, the Baltimore Symphony, Boston Esplanade Pops Orchestra, and the Nebraska Symphony. He opened the 2004 Olympic Games in Athens, and in 2008 toured with Sarah Brightman performing in 32 cities across North America and Canada. He is a featured artist on her CD A Winter Symphony (2008). He serves as the Global Ambassador for Peace for Nobel Peace Prize Winner Betty Williams' Organization, World Center of Compassion for Children International, and is an International Ambassador for the Horatio Alger Association in the United States. The CNN music critic, Porter Anderson, says of Frangoulis, "his world is distilled to pure sound, all voice."
The Greek Institute is very pleased to continue our long-term collaboration with Mario Frangoulis in the United States; and to feature the young and talented George Perris. Our purpose is to showcase the richness of the Greek culture, from ancient times to the present and to bring to light the formidable artistic and cultural reach that Greece has in the world.
As a non-profit, 501(c) 3 educational and cultural center established in 1990, located at 1038 Massachusetts Avenue at Harvard Square in Cambridge, our mission is to "create a greater awareness and understanding of the extraordinary achievements of Greek culture from antiquity to the present." This concert series is part of the newly established Greek Arts & Letters Series.
BIOGRAPHICAL NOTES ON THE MUSICIANS
Panagiotis Liaropoulos
Panagiotis Liaropoulos was born in Athens, Greece. He holds a Doctoral Degree in Composition from Boston University where he studied with Theodore Antoniou and Lukas Foss. He pursued his graduate studies on a Fulbright Grant and he was the recipient of the 2001 Boston University Award for Outstanding Achievement in Theory and Composition. Dr. Liaropoulos completed his undergraduate studies in Music Studies/Musicology in the School of Fine Arts at the Aristotle University of Thessaloniki. He also holds degrees in Harmony, Counterpoint, Fugue, Composition, and Piano from the National Conservatory of Athens, Greece. His compositions include music for solo instruments, various ensembles, chorus, and orchestra and his works have been performed and awarded in Europe and the United States. Among his national and international distinctions are the first prize in the ALEA III International Composition Competition (2002) for his piece Orientations Beta, the second prize in the prestigious Dimitri Mitropoulos International Composition Competition (2005) for his Concerto for Flute and Orchestra and the first prize at the Composers' National Workshop at Athens Megaron Concert Hall in Athens, Greece (1999). Dr. Liaropoulos has received several commissions from distinguished ensembles, musical organizations, and performers that include, among others, the Boston Pops Orchestra, the Albany Symphony Orchestra, the Alea III Contemporary Music Ensemble, the Greek Ensemble for Contemporary Music, the Athens Megaron Concert Hall, the Louisiana Sinfonieta, the New Paths in Music Festival, the Aspen Music Festival, the Boston University Symphony and Chamber Orchestra, the Kassatt String Quartet, and the Neopolitan Chamber Orchestra. Recent performances of his music include, among others, his Concerto for Oboe and Strings performed by Greek Ensemble for Contemporary Music in January 2010, and his piece Echoes – In Memoriam Likas Foss performed by the Alea III Contemporary Music Ensemble in March 2010.Dr. Liaropoulos currently serves as a faculty member in the Department of Performing Arts at the University of Massachusetts Boston. He also performs as a freelance pianist specializing in a wide repertoire that includes classical music, contemporary genres and ethnic music, as well as traditional and modern Greek music.
Peter Leonidas Cokkinias
A very busy freelance clarinetist and woodwind doubler in the Boston -Providence area, Peter Cokkinias has performed with the Boston Symphony Orchestra, the Boston Pops, the Pops Esplanade Orchestra, Boston Ballet, and Boston Lyric Opera, and in Broadway shows at Boston's Colonial, Opera House, and Wang Theaters as well as the North Shore Theater and Providence Performing Arts Center. He is a founding member of the Boston Saxophone Quartet and this year celebrates his 30th season as Music Director and Conductor of the Metrowest Symphony Orchestra in Hopkinton (MA). While at Tangelwood, he worked/studied with conductors: Erich Leinsdorf, Seiji Ozawa, John Williams, Andre Previn, Aaron Copland, and Leonard Bernstein and later with Thomas Schippers and Boris Goldovsky. As a faculty member at Berklee College of Music in Boston, Cokkinias founded the Berklee Contemporary Symphony Orchestra , Berklee's first symphony orchestra. His newest project at Berklee is the Musical Theater Orchestra part of the new Musical Theater ensemble which will present Elton John and Tim Rice's AIDA in the Spring of 2010. A native of Springfield, Massachusetts, Dr. Cokkinias holds degrees from the Manhattan School of Music (NY), the Hartt College of Music in Hartford (CT), and the University of Cincinnati College-Conservatory of Music (OH).
Rohan Gregory
Rohan Gregory, violinist, classical and world music violinist. He presently plays and tours with Flamenco guitarist Juanito Pascual. He is a founding member of QX, a Boston based string quartet that has recently recorded for Albany records. Rohan has cultivated a wide-ranging expertise in chamber music, new music and world music. He has played with the Apple Hill Chamber Players, the Ancora Ensemble, the Boccherini Ensemble and also spent ten years with the Arden String Quartet, performing concerts in New York, Boston, Amsterdam and St. Petersburg, Russia. On the world music scene, Rohan has toured extensively. His travels have taken him to Europe and Brazil with The Klezmatics, to Thailand with multi-ethnic flute player Abbie Rabinowitz, to India with the Indo-jazz group Natraj, to the U.S. west coast with the Sophia Bilides Greek Folk Ensemble, around the country with the World Funk band Hypnotic Clambake, and around New England with middle eastern alternative rock band Paranoise. Locally, Rohan is a member of the Boston Lyric Opera Company, the New England String Ensemble and Boston Modern Orchestra Project. He is violin faculty at Holy Cross College, coaches chamber music for the Walnut Hill School for the Performing Arts, Music at Port Milford in Canada, and the Apple Hill Chamber Music Festival.
Jessica Lizak
Dr. Jessica Lizak performs as one of Boston's most versatile flutists, with a style described as "poised, gorgeous, musical, and very sweet." Appearing in concert across the US, Canada, and Israel, she is currently principal flute of the Atlantic Symphony, and section flute of the Orchestra of Indian Hill. She performs with Opera Boston, Boston Modern Orchestra Project, Cantata Singers, Gardner Museum Orchestra, Zamir Chorale, Marsh Chapel Chamber Orchestra, and nationally, with the New World and the Albany Symphony. She was a Fellow at the Tanglewood Music Center, Music Academy of the West, Domaine Forget, and Interlochen. In addition to winning the Pappoutsakis Competition, she won top prizes at the Myrna Brown International Flute Competition, Bohemians Club of the Detroit Symphony Concerto Competition, and twice won the BU Departmental Award for outstanding musical achievements. She has been a soloist at the National Flute Convention, the Greater Boston Flute Association's Flute Fair, and she has performed as a chamber musician on WGBH and WCRB. Her discography includes a live performance of the American premiere of Carter's opera What Next? conducted by James Levine, and the first BSO release of live performances of the Tanglewood Music Center Orchestra. She regularly records with BMOP, and she has collaborated with recording artists Tim Janis and Natalie Merchant. Equally committed to education, she is on artist faculty with the Winchester Music School, Lexington Community Education, and the Boston Youth Symphony. She holds a DMA from BU, MM from NEC, and BM from UM Ann Arbor. Her teachers have included Nina Barwell, Leone Buyse, Geralyn Coticone, Marianne Gedigian, Renee Krimsier, Elizabeth Ostling, Fenwick Smith, and Jeff Zook.
Stelios Michas
Stelios pursued studies on the classical guitar with Evangelos Asimakopoulos and Kostas Grigoreas and graduated from the Music Studies Department at the National & Kapodistrian University of Athens,Greece in 2004. While in Athens he performed with various groups and taught the electric and classical guitar. In June 2004 Stelios was awarded a scholarship to attend Berklee college of Music in Boston where he studied with Mick Goodrick, Tim Miller, Hal Crook a.o. and performed in numerous and diverse events in the Boston area (Berklee Performance Center, Tsai Performance Center, Kresge Auditorium a.o.), LA (Kodak Theater, UCSB) and San Francisco. Stelios is a faculty member of the South Shore Conservatory in Boston since 2008 and is an active teacher and performer currently located in Boston and New York.
Fabio Pirozzolo
Originally from Terracina, Italy, he started his career as folk percussionist (playing Italian frame drums Tamburello and Tammorra) in one of the most famous folk groups in his area. This experience gave him the opportunity to travel throughout Europe, playing concert and giving lectures on regional Italian frame drums techniques. A Summa Cum Laude Berklee College of Music graduated he performed and performs in virtually any genre of music from Jazz to World Music to Rock. He's the co-founder of the World music ensemble Grand Fatilla and Italian folk music ensemble Newpoli where he plays percussion and sings. Highly in demand both as a drummer and as percussionist, he's currently the drummer for Herb Reed's and The Platters, Laura Vecchione and Tony Gallo's Group and he's the percussionist for Musaner Armenian Folk ensemble. His experiences led him to collaborate with Berklee College world-class teachers Skip Hadden and Casey Scheuerell. He taught master classes at Berklee and worked at Emerson College and Boston Conservatory as accompanist for dance classes. He's the author of all the drum transcriptions for Skip Hadden's drum book "Profiles in Jazz Drumming" and "Broken Eight's Time Feel". His transcriptions are also featured on the most important Italian drum magazine "Batteria e Percussioni" and on Polish drum magazine "Top Drummer."
Daniel Rowe
Daniel plays a wide variety of music on Baroque, modern, and electric cellos. He studied cello with David Finckel and Jerry Grossman at S.U.N.Y, Purchase, with George Neikrug as a Dean's Scholar at Boston University, and Baroque cello with the late Fortunato Arico. As a Baroque cellist, he is a founding member of the Baroque chamber ensemble, Tres., and is a member of Renaissonics, a Renaissance chamber music group and dance band. He has performed as principal cellist with The Arcadia Players and Millenial Artists. As a "modern" cellist, he was a member of the Ravel Quartet, which was in residence at the Bridgeport Symphony in Bridgeport, Connecticut. He has played and contracted for the Huntington Theater Company and the American Repertory Theatre, and free-lances around the Greater Boston area. Daniel plays electric cello as a member of the Guy Ford Band where his improvisational skills can be heard in numerous watering holes on the North Shore of Boston, and with Sal Baglio and The Beauty & Disturbance Orchestra. Daniel holds a master's degree in Computer Science from U Mass, Boston, and spends more time than he would care to admit working for small startup software companies, currently playing the CTO role at RingClear in Beverly, MA.
Jessi Rosinski
Flutist Jessi Rosinski performs actively throughout Boston appearing with ensembles such as Boston Musica Viva, Collage New Music, Firebird Ensemble, Boston Microtonal Society, Xanthos Ensemble, Ludovico Ensemble, Guerilla Opera, and Boston Modern Orchestra Project. She is the flutist of Boston's Callithumpian Consort, an artist in residence at Harvard, an associate with the Atlantic Symphony, and a regular substitute with the U.S. Coast Guard Band. Jessi recently enjoyed a solo performance with the Boston Pops, a recital at the International Festival of Contemporary Arts in Leon, Mexico, and a commission from Paul Elwood. Jessi holds degrees from The Hartt School and New England Conservatory and also has advanced knowledge of cupcakes and ice cream. Please visit her website: www.jessirosinski.com.
Nick Tolle
Described by the New York Times as "virtuosic" and by the Albany Times-Union as "amazingly skilled," percussionist/cimbalomist Nicholas Tolle recently performed the solo cimbalom part in Pierre Boulez' Repons in Lucerne, Switzerland with the composer conducting. As a percussionist, he has performed with the Royal Concertgebouw Orchestra, the Nederlands Radio Kamer Philharmonie, the Boston Pops Orchestra, Boston Modern Orchestra Project, Boston Lyric Opera, Collage New Music, Cantata Singers, and is a core member of the Callithumpian Consort. Nicholas is the founder and director of the Ludovico Ensemble, a mixed chamber ensemble in residence at the Boston Conservatory that dually promotes rarely heard works of the European avant-garde as well as works by Boston-area composers, and is also a founding member of Ensemble XII. In 2009, Nicholas won an Encore Grant from the American Composers Forum. He has attended the Tanglewood Music Center, the Lucerne Festival Academy, the Carnegie Hall Professional Training Workshop, and the Aspen Music Festival. Nicholas has been a guest teacher at the Hochschule fur Musik in Detmold, Germany and the Arnhem (NL) Conservatorium. He attended the Boston, Amsterdam, and New England Conservatories.
Alexander Trampas
Alexander Trampas, born in 1982 in Athens, Greece, began his musical career at the age of 12, with bass. After studying for many years bass and theory with Manolis Kavvalos, he was introduced to Jazz by Giannis Anninos, Giannis Papatriantafyllou and Yiotis Kiourtsoglou. At the age of 25, he moved to Boston to study Jazz Composition, and Performance with such masters as John Lockwood, Greg Hopkins, Bob Pilkington and John Bavicchi among others. He has recorded albums for mainstream and independent artists such as Old House playground, Madame, Jody Carlsson, and Despoina Vandi among others, and has toured in Greece and in Boston with Georgia Velivassaki, The Pocket Jazz Orchestra and George Perris, and has performed with Larry Monroe, Eriko Daimo, Ricardo Monzon and Ron Savage in various settings. Currently he lives in Boston, finishing up his studies in Composition and Film Scoring at Berklee College of Music.