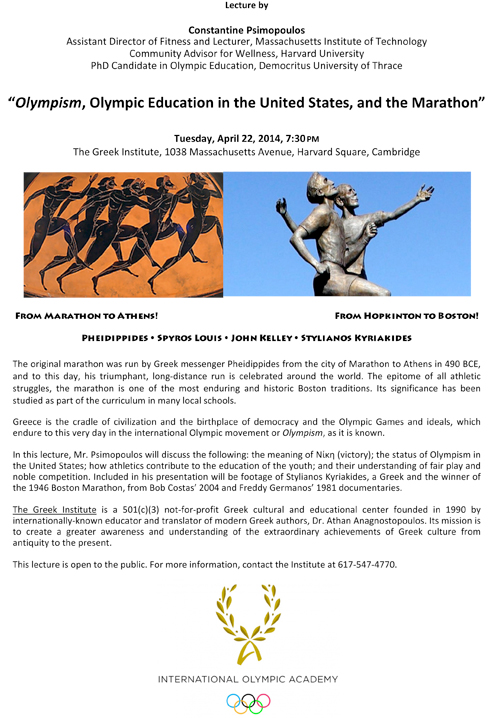 News and Events
Click here to view The Greek Institute's Chronology of Programs
February 24 - The third cycle of Greek language classes begins
See course listings.

A glimpse of some of the embroideries and costumes the family of Doreen Canaday Spitzer (1914-2010), well known American Philhellene, recently donated to the Greek Institute.
On her first visit to Greece, Doreen Canaday wrote to her cousin, "I have seen the Parthenon in full moonlight, have seen Sophocles' Electra in the Odeon of Herodes Atticus...I have got lost, almost, on the slopes of Hymettus, of honey fame, and seen such sunsets and sunrises as people only dream of. Sometimes I can't believe it's really true..."
View the embroideries
THE MONDAY EVENING AUTHOR/LECTURE SERIES - A LOOK AT THE ANCIENTS AND THE BYZANTINES
March 17, 7PM - "Alpha is for Anthropos" - a presentation and book signing by author, classicist and educator,Therese Sellers. Ms. Sellers will introduce "Alpha is for Anthropos," a unique book consisting of twenty-four original nursery rhymes in Ancient Greek, which aim to teach a basic Greek vocabulary, and are also accompanied by original illustrations by Lucy Bell.This book is for anyone, child or adult, who would like an introduction to the riches of Ancient Greek language, art, and thought.
March 24, 7PM - "Between Byzantium and Modern Greece: Recapturing the legacy of Homer in Loukanes' 1526 Iliad" presented by Calliopi Dourou, PhD candidate in the Classics, Harvard University
March 31, 7PM - "Jung and the Greeks" presented by Christos Gianopoulos, adjunct faculty in philosophy, University of Maine and Southern Maine Community College, who will discuss the influence of ancient Greek philosophers on the theories of the great Swiss psychiatrist and psychoanalyst, C.G. Jung (1875-1961).
April 7, 7PM - "The Legacy of Medieval Byzantine Chant in Venetian Crete)" presented by Spyridon Antonopoulos, PhD candidate in Musicology, City University London.
April 28, May 5,12, 7-8:30PM - "Greek Music in America - Preserving the Past," Instructor: Meletios Pouliopoulos, Archivist. Overview of Greek music and the recording industry 1900-1960, a special focus on the music of the early Greeks of the Brickbottom community in Somerville, MA, and the crossover of music among the Greek, Armenian and Turkish communities in New England. Throughout students will listen to rare performances, view videos, all drawn from the private collections of Mr.Pouliopoulos. $45